Welcome to Dance and Creative Educational Music, Inc. A place to find teaching tools you need for dance schools:
Ballet CDs, Creative Movement CDs, Tap CDs, Children's CDs, Books, Ballet Syllabuses,
Themed performance CDs and Year Long Programs for Creative Movement, Ballet, Tap and Jazz.
Click any of these:
Home| Music | Ballet Syllabuses| Complete Recitals |Secrets Of Running A Successful Dance Business | Year Long Programs | Other Dance Products| Artists Bios | Privacy Statement | Order Form | Teacher's Workshop
Shop here for exciting dance music for your students!

Download our 2013-2014 Catalog in PDF Click here.e-
You can see our Hip Hop 8 Dances and 4 Warm ups on
http://www.youtube.com/4dancem
click here to down load our 2012-2013 Catalog in PDF
Click here for info on our 2014 workshop in Secaucus, NJ on July 26-27 at the Embassy Suites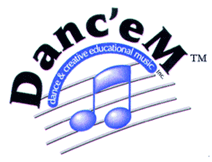 Click this image to enter 4Danc'eM.com



To see how to use (in what order) our 9 Month Teacher's Programs click here
Click here for our Hip Hop9 Month Program!
*Go to http://www.adobe.com/products/reader for free download of PDF reader if you don't already have one.


P.O. Box 3204
Shepherdstown, WV 25443-3204
Toll free at 888-432-6236


Isn't this globe great? I just put this on the site August 15, 2011.
Shows where all the hits we've gotten are from.
Teachers are using our music all over the globe.
We are going GREEN!!!! Well, we are at least starting to go green.
Danc'eM is offering all syllabuses are discounted 33% when you download them. Just go to Year Long Programs for the 9 Month Syllabus and notice the price at the end of each listing. Our single CDs are still reduced for download.
All sales are final. No refunds.
If you aren't sure about a purchase, please call us to hear the music and talk about the products.